Get closer to skin perfection. This innovative collagen-inducing treatment removes acne, scars, pigmentation and more.
A needle you and your skin will love
Don't like needles? Wait until you try skin needling. This minimally invasive collagen-inducing treatment is an effective way to achieve smoother, firmer skin and reduce scars and pigmentation. It was first recorded as being used as early as 1905, but it's come a long way!
Our professional aesthetic and dermal therapists use SkinPen® and Vivace RF Skin Needling, two state-of-the-art micro-needling devices which are proven to offer dramatic results of skin rejuvenation. In just a few treatments, your complexion and confidence will be rejuvenated. 
How does skin needling work?
Skin needling is a minimally invasive treatment that uses microneedles to make hundreds of tiny little pricks on the skin. These minor injuries stimulate new collagen production as the skin tries to heal, improving your skin's elasticity, reducing wrinkles and increasing blood flow. Due to the speed of today's skin needling devices, it's possible to treat large areas of skin in a short period of time or target multiple places at once. We recommend a minimum of three sessions. You should expect to see some redness for 24-48 hours after each treatment.
We recommend you avoid sun exposure directly after this treatment. Your skin can also benefit from specific skin needling aftercare products, which your therapist will talk you through.
What it costs
SkinPen® $299
Vivace RF Skin Needling $450
Treatment time
Approx. 60 mins
This includes a prior consultation to chat about your treatment goals.
Skin Needling are used to treat:
Fine lines and wrinkles
Acne scarring
Loose skin
Enlarged pores
Rough skin texture
Pore size
Brown spots
Stretch marks
Benefits of Skin Needling:
Smoother, firmer skin
More even complexion
Less obvious scars
Confidence boost
Minimal downtime
Virtually pain-free
Frequently Asked Questions
What is involved?
Our skin specialists use the Skin Pen which is the first FDA approved microneedling device. This is issued on the face to create those tiny microchannels into the skin to promote healing and collagen production. Essentially being poked by tiny needles where tiny holes are made on the skin.
What are the benefits?
Skin Needling drastically improves the appearance of fine lines and wrinkles, as well as acne scarring and hyperpigmentation.
Is it right for me?
Skin Needling does not utilise laser or heat which means it is often safe to use on all skin types.
Does it hurt?
Before the treatment, a topical treatment is applied to make the session more comfortable for the client.
How long does it take?
Treatment sessions for skin needling usually take 30-40 minutes.
When will I see results?
It is common for clients to experience redness post-treatment, as well as some microshedding to occur in the days following. True results shouldn't be expected until two weeks after your treatment.
When will I need to book in again?
Depending on the client, we usually recommend treatments to be 4-6 weeks apart.
For Skin Pen and Vivace treatments, we advise clients to have 4-6 treatments.
Before & After Skin Needling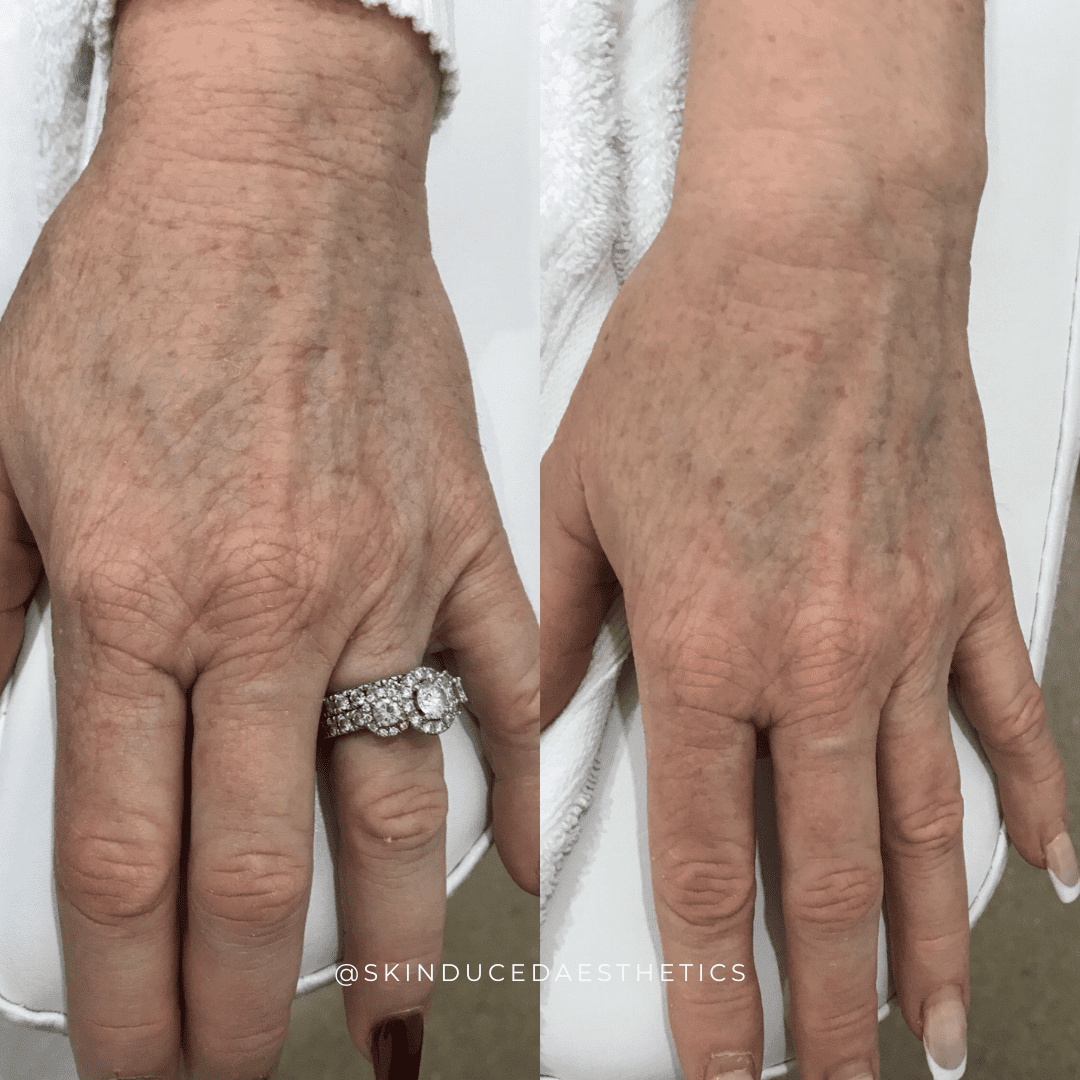 Book your Skin Needling today!
To book your appointment at our Skinduced Aesthetics Clinic at Newcastle simply call our clinic on: 02 4081 0888 or use our online booking system.