Done with using a razor or don't like the pain of waxing? Laser hair removal blasts those follicles for smooth, lasting, fuzz-free skin.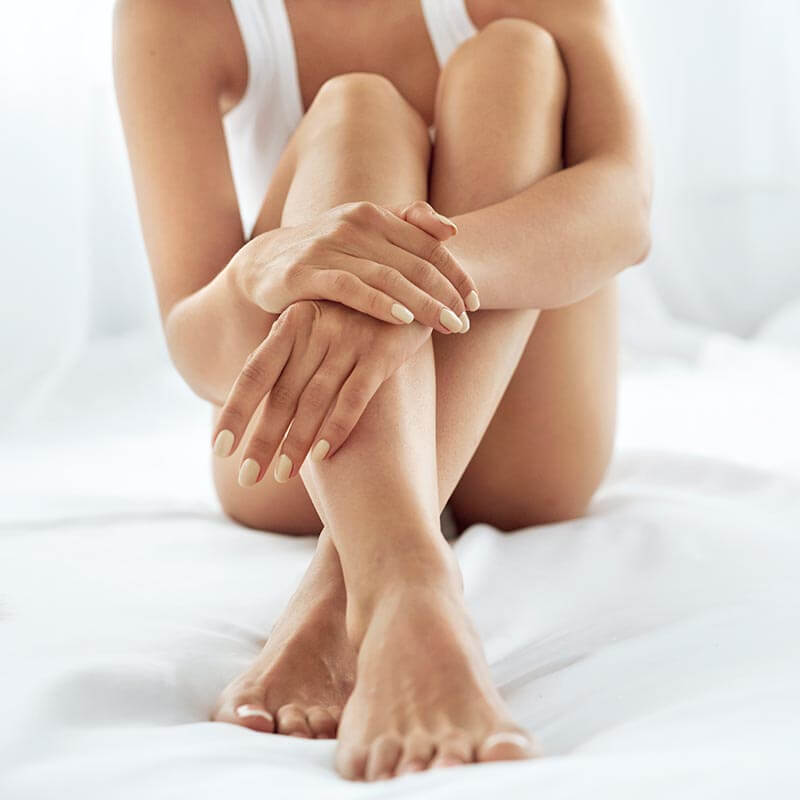 Get rid of facial hair and body hair growth for good
There's nothing better than the feeling of smooth, beach-ready skin. Our laser hair removal treatment targets each hair follicle at its root to rid your face and body of unwanted hair for good. From your legs to your upper lip or bikini line. It's suitable for men and women and all skin types.
Our trained doctors and dermal therapists use the versatile, dual-wavelength Clarity laser treatment platform, which drastically shortens treatment time and produces amazing results. We also use a Zimmer cooling device to make the treatment as comfortable as possible.
How does laser hair removal treatment work?
Laser hair removal works by directing concentrated laser light into the root of your hair follicles. This inhibits your hair's ability to grow without disrupting or damaging the surrounding skin's surface. This means even the most sensitive skin can tolerate the laser's beam.
Before your first treatment, our dermal therapists will ask you to shave the area 12-24 hours before. You'll also be asked to exfoliate to remove dead skin cells and ingrown hairs. The number of treatments needed will depend on your hair and skin type and will be discussed in your consultation.
We generally recommend that your multiple treatments are carried out at 4-8 week intervals. However, for facial hair, you can have laser two weeks apart as the hair growth cycle is much faster.
What it costs
1/2 Arms $119.00
1/2 Back $129.00
1/2 Legs $159.00
Back & Shoulders $209.00
Beard Sculpting $49.00
Bikini $49.00
Body: Anus $49.00
Buttocks $129.00
Chest $129.00
Chest & Stomach $169.00
Chin $20.00
Female Brazilian $55.00
Female Brazilian & Underarms $59.00
Female Brazilian, Underarms & Full Legs $209.00
Female Brazilian, Underarms & Half Legs $169.00
Female Full Body $379.00
Full Arms $169.00
Full Back $179.00
Full Face $60.00
Full Legs $199.00
Lip $20.00
Lip & Chin $30.00
Male Brazilian $79.00
Male Brazilian, Underarms & Full Legs $195.00
Male Brazilian, Underarms & Half Legs $170.00
Male Full Body $399.00
Neck Front or Back $49.00
Nose $14.00
Shoulders $75.00
Sides of Face $49.00
Stomach $75.00
Underarms $29.00
Treatment time
Approx. 5-45 mins depending on area
This includes a prior consultation to chat about your treatment goals.
Laser Hair Removal are used to treat:
Whole body except eyebrows, lashes and head hair
Benefits of Laser Hair Removal:
Smooth, fuzz-free skin
No ingrown hair
Reduced hair growth
Low maintenance

 

Minimal discomfort

 

No skin damage
Precise targeting

 

No downtime

 
Frequently Asked Questions
Does laser hair removal hurt?
Compared to waxing or plucking, laser hair removal is virtually painless. The sensation is similar to a sharp tapping. If you ever feel too much pain or discomfort please let our clinicians know and they will stop your treatment.
Can any hair colour receive treatments?
The way most laser hair removal machines work is by picking up certain pigments in the hair, these pigments cannot be seen in blonde, grey and ginger hair.
How often do I need to get laser hair removal?
Upkeep for laser hair removal is generally recommended every 4-6 weeks however this may differ depending on the area treated and the hair type. This will gradually decrease the more treatments you do.
What preparation do I need to do for my appointment?
Clients need to minimise sun exposure 7-14 prior to the appointment date. Removal of any spray tans residue is essential, as well as shaving 12-24 hours prior.
What machine do you use?
We utilize The Clarity Laser as it is the most versatile dual wavelength machine on the market allowing us to treat any skin type. As well, this machine includes a cooling feature to make your treatments much more comfortable.
Why do I need more than one treatment?
A suggested treatment course is 10-12 sessions. Each session is estimated to lessen the hair production by 15%. One treatment will not achieve a great amount of difference in hair production, by committing to a course of treatments you are going to receive optimal results.
What aftercare is involved?
We highly recommend the use of Aspect Dr. Soothing Gel OR Skin Simple Post Laser Soothing Gel to help reduce any adverse responses and to soothe and calm the skin. This can also help to prevent post inflammatory hyperpigmentation and is an antibacterial helping to prevent ingrown and folliculitis.
As well that the client exfoliate around the 5-7 days post treatment, and repeat the process every few days thereafter.
Can I still get my treatment when I am on my period?
You can still receive your treatment if you feel comfortable to do so, we do request if you are receiving a brazilian that you wear a tampon or menstrual cup to ensure a hygienic environment.
Can I still get skin treatments if I'm on regular medication?
It is important you mention any regular medication you're currently taking to ensure they don't counteract or affect your skin's condition to receive treatment.
What is involved in a Brazilian treatment?
Brazilian laser hair treatments reduce the hair production in the bikini line and pubic area (not including the anus area).
Book your Laser Hair Removal today!
To book your appointment at our Skinduced Aesthetics Clinic at Newcastle simply call our clinic on: 02 4081 0888 or use our online booking system.