Why go under the knife? Treat yourself to this effective treatment that boosts and strengthens collagen and elastin for a natural lift.
Get a fast, effective facelift
While they say life begins at 40, the skin and muscles in your face don't seem to agree. Facial aging, such as wrinkles, lines and sagging, start to appear at increasing speed. PDO threads can help slow this process down to help you achieve a smoother, more youthful look.
While mono or PDO thread lifts are a relatively new and trending cosmetic procedure, they're well-tested. Numerous studies have shown that they deliver real lasting lift. And our PDO thread specialists use only the highest quality threads. The skin tightening process improves skin texture, and removes fat tissue better than other threads, and treatments due to the collagen synthesis.
How does PDO threads treatment work?
PDO or polydioxanone threads are dissolvable sutures inserted under the skin via blunt tip needles. Once inserted, they're gently pulled back and act as anchors, lifting and tightening sagging tissues and crepey areas. They gradually dissolve, stimulating collagen and elastin.
Results from the initial consultation of PDO thread lifting isn't immediate; they're typically seen in 8-12 weeks when you'll notice a tighter, firmer, more youthful and refreshed appearance. The minimally invasive procedure take about 12 months to be fully absorbed. It's because of this that we recommend yearly follow-up treatments for more PDO cosmetic procedures. PDO treatment is a non surgical thread lift, slowing the ageing process of the face, removing drooping skin and loose skin, the boosted collagen production strengthens the face, to create fine lines and act as a non surgical facelift.
What it costs
Long Threads:
10 (Neck): $3300
12: $3700
14: $3500
4 (Jawline only): $1800
6 (Jawline & Jowls): $2600
8 (Cheek Lift): $2900

Mono Threads:
Nasolabial Folds – $599
Peri Oral Lip Lines – $699
Accordian/Smile Lines – $899
Marionettes – $699
Jaw Line – $899
Submentum – $499
Crows feet – $499
Glabella lines – $599
Treatment time
Approx. 60 mins
This includes a prior consultation to chat about your treatment goals.
PDO thread lift are used to treat:
Glabella lines (lines between eyebrows)
Crow's feet
Nasolabial folds (indentation on either side of mouth)
Smile lines
Lip lines
Marionette lines (puppet lines)
Jawline
Area under the chin
Benefits of PDO thread lift:
Anti-ageing
Collagen and elastin boost
Improved face shape and symmetry

 

Confidence boost
Low risk compared to surgery
Fast recovery period (2-3 weeks)
Frequently Asked Questions
What are PDO Thread Lift treatments?
PDO Thread lift treatment is a non-invasive treatment for aged and sagging skin. These treatments aim to improve definition of your face's natural contour. The non surgical face lift stimulates collagen formation in the treated area to remove sagging cheeks, sagging jowls and tighten sagging skin all over the face. PDO Threads are safer than other treatments that involve invasive surgery.
How do PDO Thread Lift treatments work?
After applying a numbing cream to the client to ensure comfort throughout the treatment process, the threads are then placed in specified places. After the threads are properly placed, they are then pulled to provide a tighter and more youthful look to the face. The threading used is medical grade and is similar to that used in surgical procedures. Similar to anti wrinkle injections although the PDO thread lift procedure is a non-invasive treatment. The experienced cosmetic doctors at Skinduced Clinic provide a safe and easy procedure for all patients, so they can achieve optimal results.
How long do PDO Thread Lift results last?
Results for PDO Thread lift treatments may vary from client to client, however you can expect to see a lifting effect for roughly 12 months in the treatment area.
Can PDO Thread Lift help sagging skin?
A PDO thread lift is a procedure that uses dissolvable sutures to rejuvenate and lift sagging skin. Recovery from the procedure is minimally invasive procedure and recovery is quick with minimal downtime, it's often possible to return to work the same day.
Before & After PDO Threads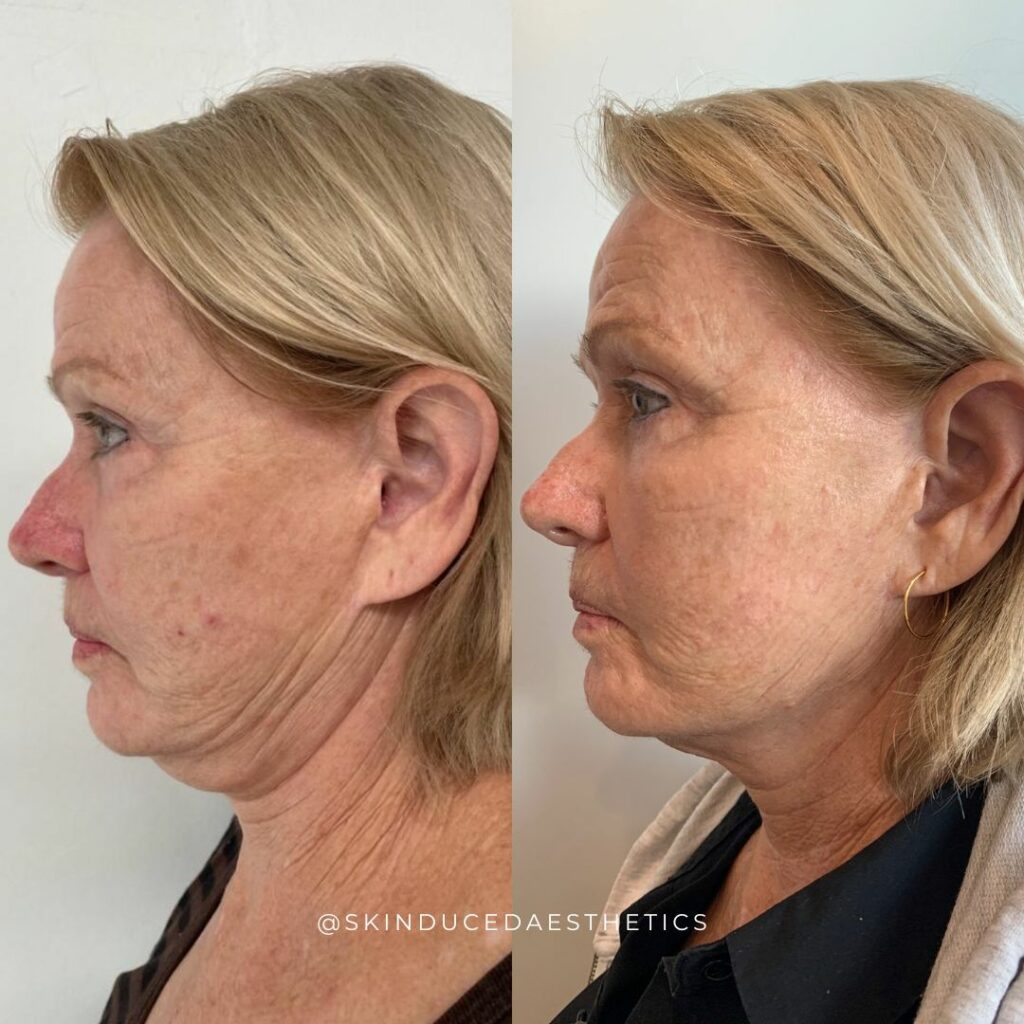 Book your PDO thread lift today!
To book your appointment at our Skinduced Aesthetics Clinic at Newcastle simply call our clinic on: 02 4081 0888 or use our online booking system.