Want skin that shines like the celebrities? This famous and proven Spectra treatment will leave you with an amazing skin glow.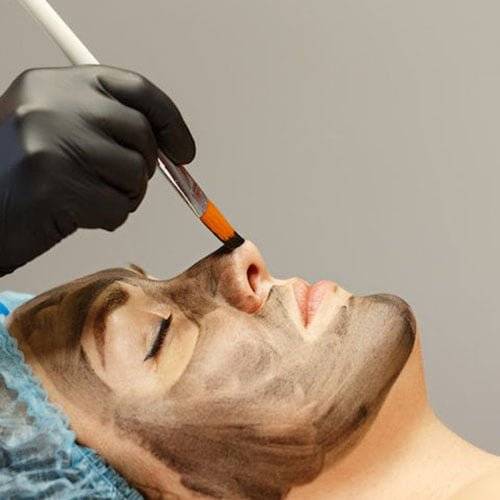 Get a camera-ready complexion
Made famous by the likes of Jennifer Anniston and Kim Kardashian, the Hollywood Laser Peel® continues to be a staple pre-red carpet treatment for many celebrities. The reason? Because it leaves your skin with a fresh, youthful glow – and you looking and feeling fabulous. 
The secret behind the treatment is the official and world-leading   Hollywood Laser Peel platform, Spectra, which we have here in our clinic. It tackles everything from uneven skin tone to pigment and acne scars and can be used as a one-off skin-lift or a series of treatments. 
How does hollywood laser peel treatment work?
The Lutronic Hollywood Spectre applies a photoacoustic low fluence laser energy at specific wavelengths to target chromophores – the part of a molecule responsible for its colour. Before the treatment, a carbon lotion is applied to your face, which is activated by the laser. The laser removes dead skin cells and open pores. It's then used to treat the skin and target problem areas, stimulating collagen and refining pores. When the laser fires you might feel slight tingling or warmth. However, pain during this treatment is rare. 
There's little to no downtime after having a Hollywood Laser Peel. Your dermal therapist will give you some simple aftercare instructions to follow, including keeping your skin moisturised and avoiding the sun.
What it costs
 Hollywood Carbon Laser Peel – $199
Treatment time
Approx. 45 mins
This includes a prior consultation to chat about your treatment goals.
Hollywood Laser Peels are used to treat:
Aged, damaged skin
Dull complexion

 

Acne and acne scars
Large open pores
Dark spots

 
Benefits of Hollywood Laser Peels:
Amazing skin glow
Smooth complexion
Confidence boost
Minimal risk
No downtime

 
Frequently Asked Questions
How does it work?
Light laser energy targets the graphite based lotion that is placed upon the skin before your treatment. This then safely heats up the dermis with every pulse of the laser machine. By doing this, oil production is then minimised to minimise future acne breakouts. Collagen production is increased as well, which improves skin health.
Is it right for me?
We highly recommend this treatment to anyone struggling with acne. The Hollywood Laser Peel is a simple approach to put a halt on oil production that causes acne breakouts. As well, this treatment works great for those with enlarged pores by helping reduce the size of pores and evening out skin texture.
Is there any necessary downtime?
One of the great benefits of The Hollywood Laser Peel is there is no downtime or specific aftercare necessary. You can continue your usual skin care routine after receiving your treatment and get on with your life with refreshed skin!
Does it hurt?
While the nature of a laser on your face might sound intimidating, this treatment is relatively painless. Some have described the sensation like a slight warmth on their face or a small tingling sensation.
How many treatments do I need?
Because acne and aging skin is an ongoing problem, it is recommended that your treatments are consistent and continuous. Booking in your treatments consistently with a space of at least two weeks is recommended.
I'm pregnant, is that ok?
At Skinduced, we hold our clients' safety as the first priority, because of this we do not recommend Laser Peels for those who are pregnant or who are currently breastfeeding.
Book your Hollywood Laser Peels today!
To book your appointment at our Skinduced Aesthetics Clinic at Newcastle simply call our clinic on: 02 4081 0888 or use our online booking system.